West Grand Canyon-Arizona
We left with great relief the craziness of Vegas and headed towards the Grand Canyon. We made few stops as usual, as shown on the map below.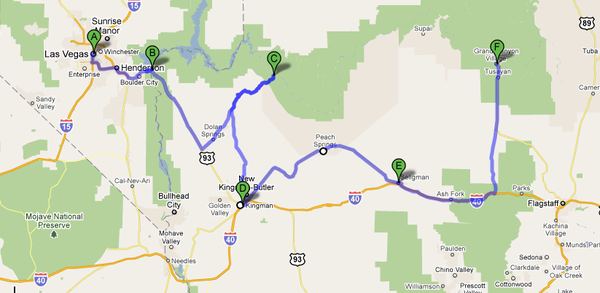 Point B: Hoover Dam (shown in the previous article) 35miles, i.e. barely 45min drive from Las Vegas. That was an obvious stop for our trip as Celine fell in love with Superman when she was 6 years old, and you obviously know the important place of the Hoover Dam in Superman.
Point C: The Grand Canyon Skywalk situated in the Grand Canyon West.
It is an "unique observation deck that spans 70 feet (21.34 meters) over the canyon's rim and sits 4,000 feet (1,219 meters) above the Colorado River". Hence as you can guess, offers breathtaking views of the canyon. Amazingly enough, Ce who suffers from severe vertigo insisted on going to the Skywalk! That would be the equivalent for me to visit a reptile vivarium i.e. insane! Nevertheless, she did kind of OK, gripping the rail all along, never looking down and managed not to faint...(barely). Even for me, it was a scary experience to be in the middle of this glass structure and literally walk on air... I can't really say that I enjoyed it but surely it was an interesting experience. On a minus point, it was not as big as expected from the pictures on the website and the price to access the Hualupai Indian Reservation at Grand Canyon West is a complete rip-off...
It's difficult to realise the scale of the Grand Canyon from pictures, you need to go and experience it yourself. It is really jaw-dropping and we got there at the best time of day, late afternoon, when the light was going from bland to deep yellow/red creating the most amazing colours from the stratified white/yellow/grey/red sections of the canyon.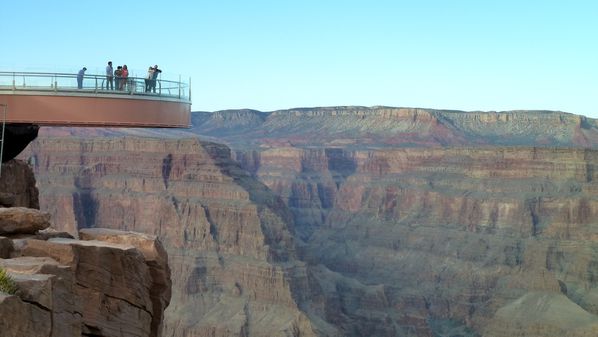 Oddly enough for a country so strict with health and safety regulations, outside of the bridge, there were no guard rails to prevent you from falling 4000 feet to the bottom. So far no one has fallen...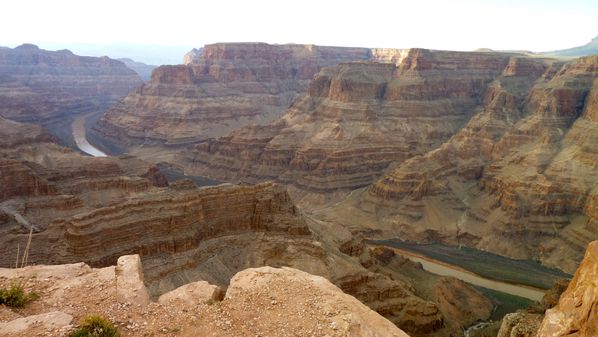 I took the picture below while Ce was not paying attention to me. But of course, she did slap me when she saw the picture afterwards. You can't really see it but I was rather on the edge to take this picture...but it was not a case a life-threatening situation mind you.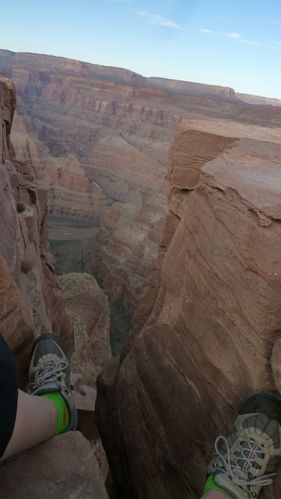 Fierce coffee effect?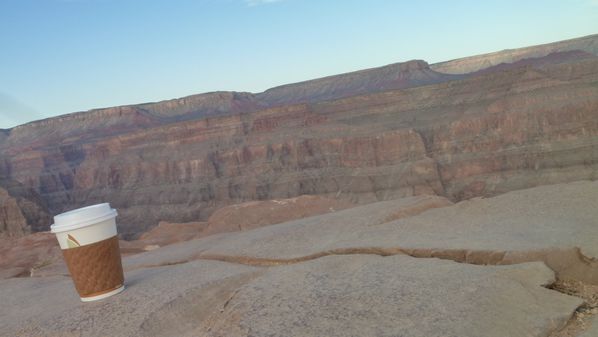 A shuttle took us from the Skywalk to 2 other viewpoints.
First, Eagle Point and its Native American Village where you can see ceremonial dance performed by members of the Hualapai tribe. There is an "authentic" Indian village, with several examples of Southwest and Great Plains Indian architecture. It includes Hualapai wichiups (made of tree branches), tipis (teepees) and Navajo hogans (made of wood and earth), all built by each tribe with authentic material, identical to those used for thousand of years.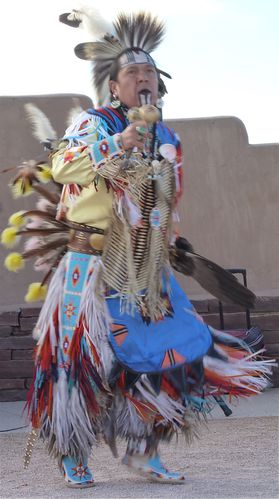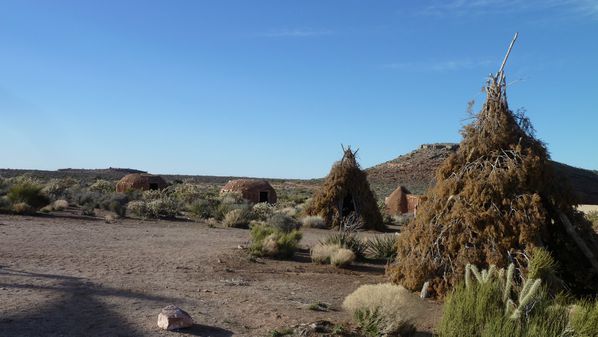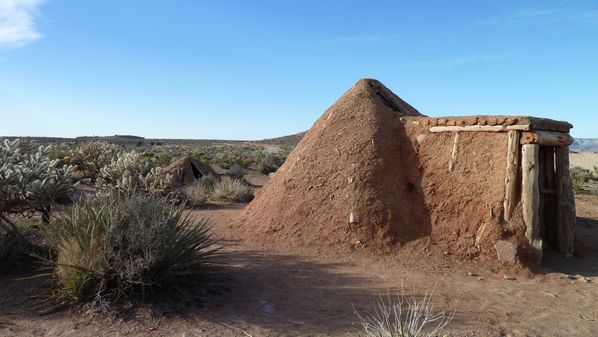 Second stop, Guano piont. During the the 1950' and 60's, bat guano or dung was mined from a cave across the canyon and trammed backed on cables. Rich in nitrate, it was used for the production of makeup (?!), fertilizer and explosives. Some of the mining relics still exist. It was by far our favorite stop as it provided superb perspectives of the Grand Canyon and Colorado river. Furthermore, we stayed until the sun sat and we were very fortunate to have an amazing light this day (our next sunsets or rises won't be so successful unfortunately during the rest of our trip).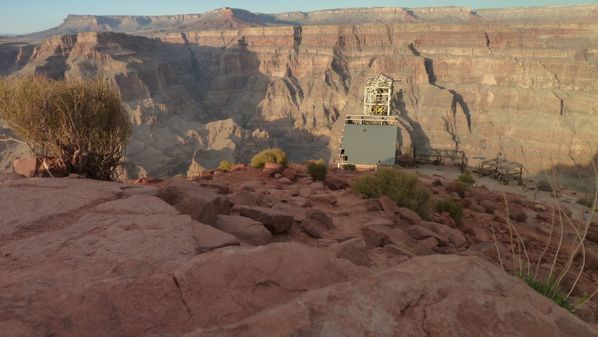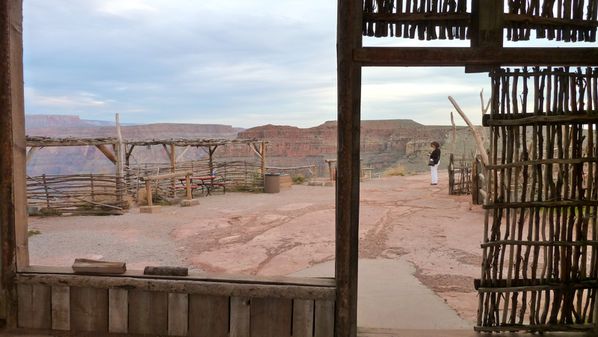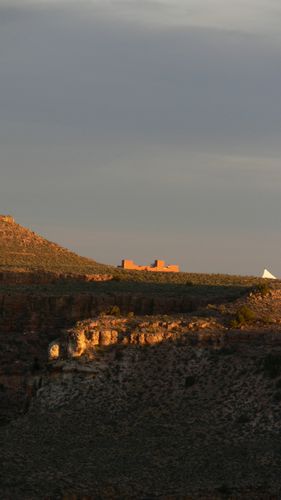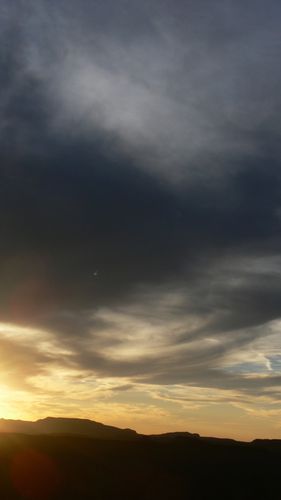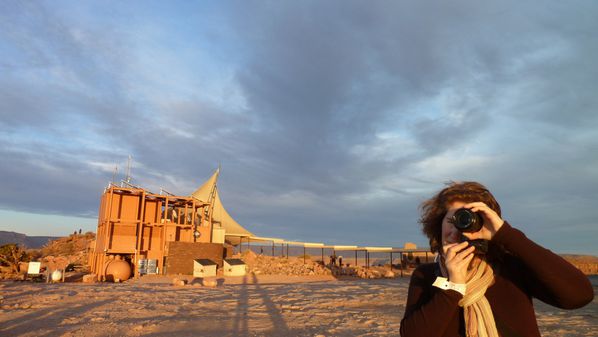 We stayed at Kingman that night, in a motel situated right next to the train tracks. To be noted: trains have to whistle at EVERY road crossing and they are very frequent on road 66, like every 10min... However, the whistling is so typical of American trains we see in films, Ce was enchanted... As far as I am concerned, I was really happy when we realised they were not running from 11pm to 5.30am!
From D to E: A portion of the remaining of the historical Road 66.
Road 66 also known as "the Main Street of America" or "Mother Road" originally ran from Chicago to Los Angeles between 1926 and 1958, before being replaced by the Interstate Highway system. The 100 miles we drove belong to the National Scenic Byway of the name "Historic Route 66". The fact that the road has been doubled by an Interstate means that Road 66 is almost dead now, except for a few places where people try to maintain the spirit of the past: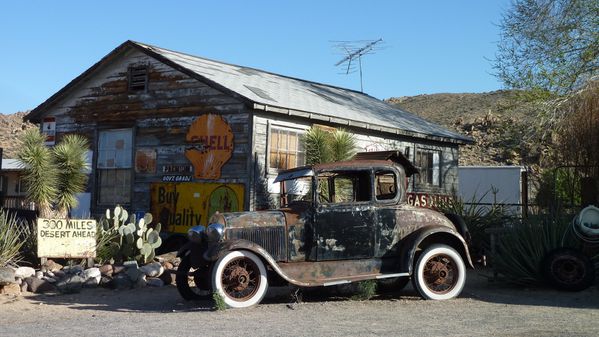 One of the famous trains we had heard a lot the previous night: the number of wagons is just unbelievable: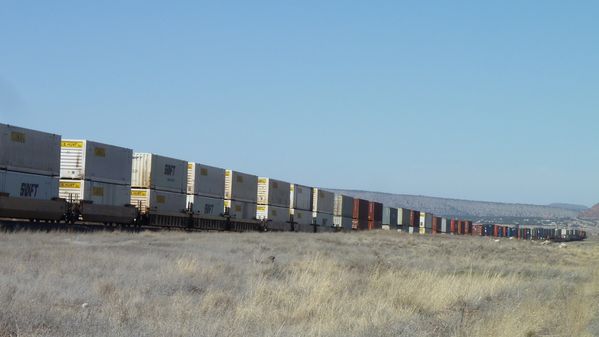 No caption could do justice to the silliness of the pictures below...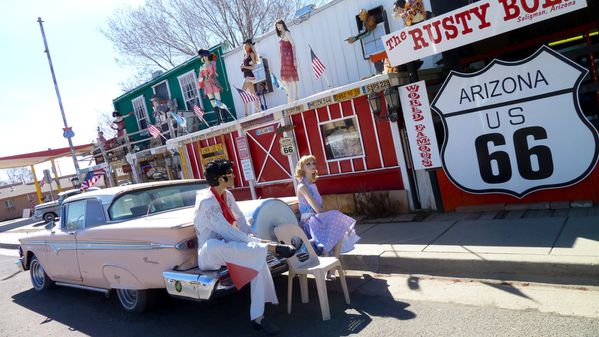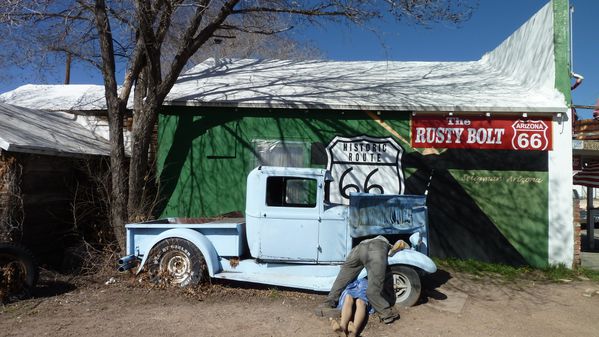 We did not stay there even if we were very tempted...
The road 66 scenery wouldn't have been as typical if Celine hadn't decided to stop to take a hitch-hicker on board, in the middle of nowhere. To our amazement, the guy had had to abandon his wrecked car 300 miles before and was just going back home eastwards to Oklahoma (a thousand miles away). The only thing he was carrying was a bottle of water... so weird!
However, he was really nice and told us he had taken that very road 50 years ago when he was a kid and the only entertaining things on that long stretch were the roadside Burma Shave billboards, which are still present there.

Between E to F, toward Grand Canyon village. To be continued...