Puerto Vallarta - episode 2
Like a yogurt, my legal status in SF has a "Best before date" that requires a trip outside of the US every 6 months (at best). We wanted to visit the Costa Rica but the flight to get there is surprisingly long (seen from Europe it seemed really close to SF, but it is actually an 8 hours flight), so we decided to return to Puerto Vallarta, in Mexico, for 3 days. We hoped for a better weather than in December and we were not disappointed. Oddly enough, it was the low season so we enjoyed a fairly quiet city with few tourists. We had planned two main activities: a swim with dolphins and a visit to the Botanic Garden, that we had missed last time.
The Dolphins tour
We were very lucky as this tour wasn't meant to take place on the day we wanted to go, but the guide agreed to open it just for us and another couple. Before taking the boat, we had a short 30 minute introduction from a professional Marin biologist that was really interesting and enlightening. Ce was uber excited whilst I was extremely nervous to be sea-sick again and go through the nightmare of our disastrous last December Whales tour... Fortunately, the sea was quieter and my body behaved, my breakfast stayingd where it was supposed to be, i.e. my stomach. But, I've learned from my mistake too, so I had taken some pills before the departure, which worked their magic extremely well. It took us less than 20 min before our first dolphins sighting. In 2 min we were in the water to swim with them. You will see in the movie that I had zero idea of what to do and I was totally clueless regarding how to swim with flippers (I removed them fairly quickly and swam bare feet). Unfortunately the water was so murky that I could not see my hands, let alone a dolphin! It was really frustrating as the guide and Ce, who had stayed on the boat to take pictures, kept shouting at me "on your left, on your right, no the other right, 1 metre from you" etc... After 5 minutes of this circus, I finally found myself facing 2 little dark eyes watching intensely at me... at last a dolphin! Because of the lack of clarity, I could not make out the rest of his body, but after 5 seconds I felt his fin brush against my leg, it was magical! I kept trying to chase them but I got frustrated, and so I went back to the boat from where you could actually see them much better.
Enjoy the movie brilliantly directed, shot and edited by Ce.
The Botanical Garden:
A peaceful oasis in the middle of the hills. If you compare it to the Royal Botanic Garden in Edinburgh, the garden in Puerto Vallarte is a bit messy and not very professionally kept but its calm and serenity totally make up for the absence of organization. I saw my first banana flowers and some really weird/beautiful other ones (no names to identify them though!)
The view on the valley from the restaurant was stunning. After our lunch, we went to the river near the restaurant to enjoy some bird watching. What I did not anticipate was to be in the middle of the jungle and hence freaking out at every crik, crak, crok... half expecting a dangerous beast to jump on me at any time, to get a fresh slice of a French girl. As for the branches, twigs and other piece of woods, they were all potential vicious venomous snakes in waiting! Some people may not know but I have a debilitating phobia of snakes... Oh, and I've almost forgotten the thousands of tiny little Mexican mosquitoes who literally ate us alive! Our legs and arms could now be used as "case study" for 3rd year students in dermatology! By all means, a very enjoyable moment... actually it was a great moment :)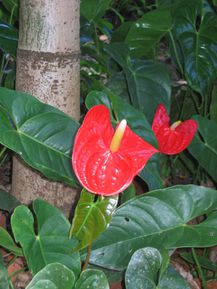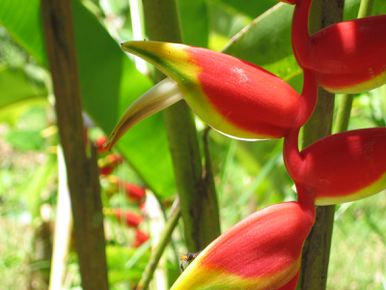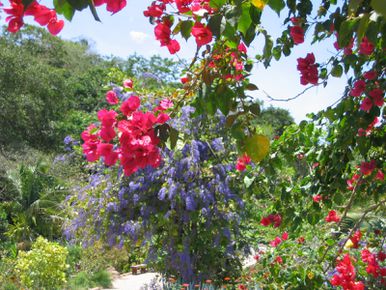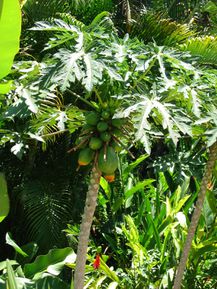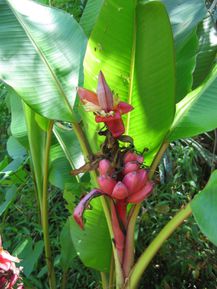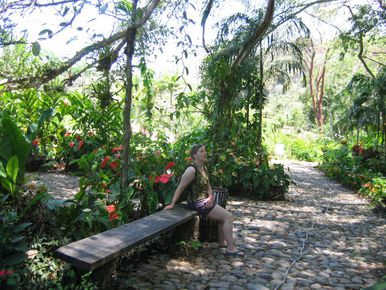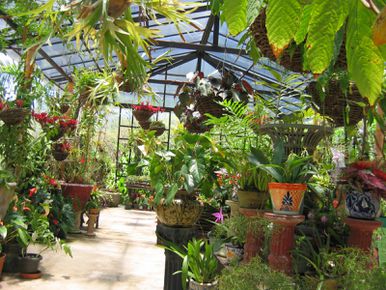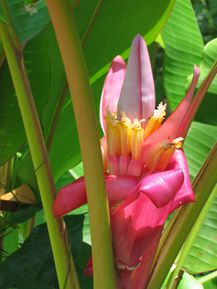 The wonderful restaurant open to the breeze... a real delight when it is 32C (90F) outside!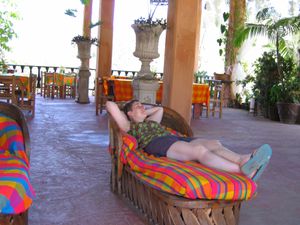 Yummy quesadillas, best pineapple ever... the jury is still out regarding the goyave on the other hand!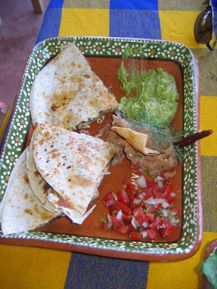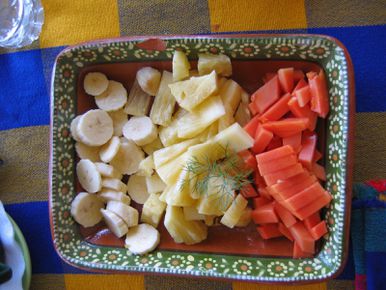 Views from the restaurant terrace: the courtyard with a water lilly basin on one side, the forest and a dream-like house with swimming pool on the other side. We still need to check if she can be rented ;-)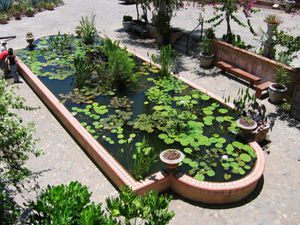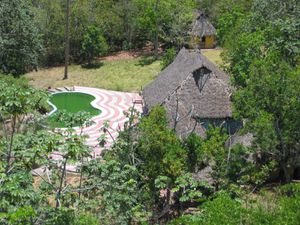 The treacherous but nonetheless lovely river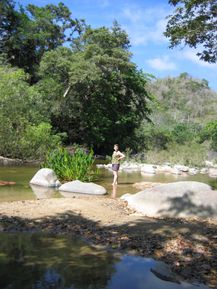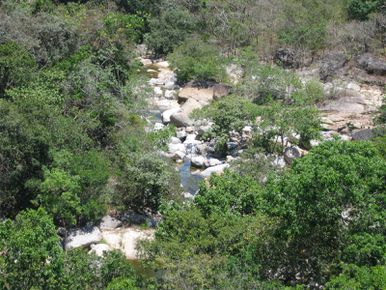 Back to the city we had a fantastic dinner in one of the multiple street food stands (5 pesos for 1 tacos, when you pay easily 100 times this price in one of the rip-off touristy places). OK, the presentation is not 5-star but the taste was really good and we had the choice for beef 'meat', 'tongue' or 'cheeks', lots of pickles, a giant bowl of hot green sauce and so-called mild red sauce. The other pleasure was to see the face of the locals, so surprised to see 2 'gringas' there.