The de Young Museum (its History)
This Museum, situated in the Golden Gate Park, has an extremelly original architecture conceived by Herzog & de Meuron architects. Furthermore its tower offers the most magnificent view of SF.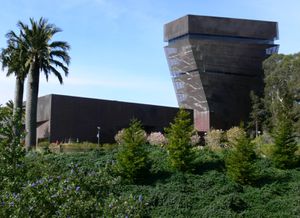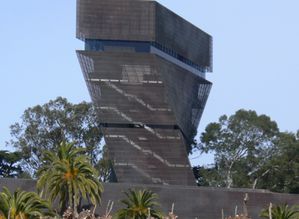 The lovely gardens are from the landscape architect Walter Hood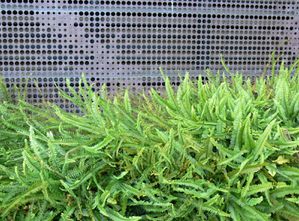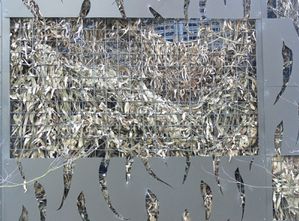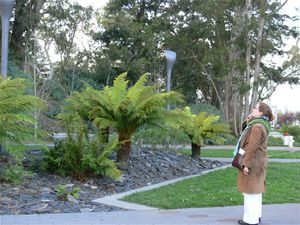 Few weeks ago we re-visited the Museum. It was extremelly crowded because free tickets were given away for the Tuthankamun exhibition (I bet they were very happy about the new discovery of the pharaoh's family history a few days before). Unfortunatly, even being among the first arrived, we could not get our sesame, so we decided to return to see the " Art of the Americas" collection that we loved so much the 1st time we visited SF.
We saw as well 2 very fine exhibitions:
-The Dorothy and George Saxe Collection of Contemporary Craft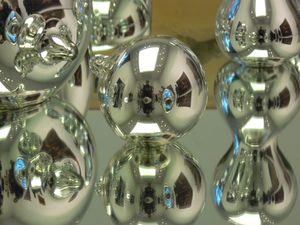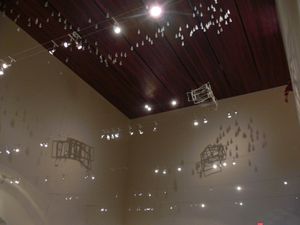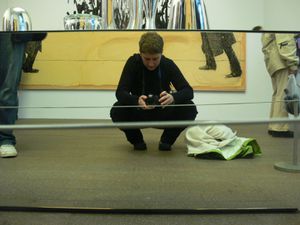 One piece attracted a lot of attention. It was the mock-up of a Cathedral made of bullets and guns parts. Beautiful and disturbing. I think that its title was something like "Holy Wars" and a critic of well... holy wars. I found the artist's message slightly simplistic but the work in itself superb! (I'm wondering why on Earth I forgot to take its picture rather than taking the silly self-portrait above!). A moment of self-indulgence I reckon...
-The 2d exhibition Posing as Art: Photographs, 19th Century to Now, "brings together a selection of rarely seen portraits and figure studies by European and American photographers from the Achenbach Foundation for Graphic Arts collection, including works by Julia Margaret Cameron, Roger Fenton, Thomas Eakins, Lewis Hine, Diane Arbus, Irving Penn, Richard Avedon, and Robert Frank". I really enjoyed this one, especially the works from Diane Arbus, that I had never seen before.

California Academy of Sciences
Right in front of the De Young Museum is the Cal. Academy of Sciences. Oh we LOVED LOVED this one! One full day was not even enough to see it entirely. Frustration frustration! We heard a 10 year old girl tell her mother that 'this was the best field trip, ever!' and totally agreed with her...
The building by Renzo Piano: its refurbishment was finished in 2005 only, so it's totally eco friendly (solar panels, green roof top, recycling/composting bins everywhere) and it's very spacious.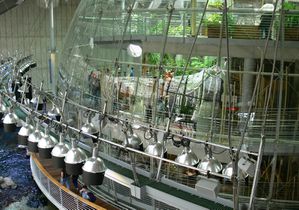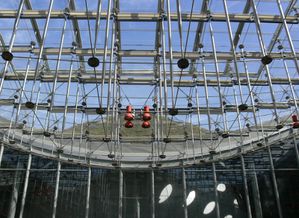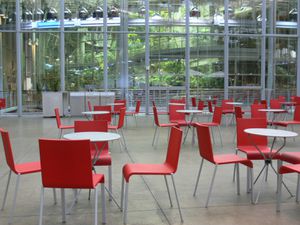 The Roof Top, its eco garden and solar panels. The living rooftop is a 197,000-square-foot area (the largest of its kind) planted with Californian plants, designed to keep the museum in a nice temperature during the summer, reducing the need for air conditioning. It also support the lives of thousands of insects (there are even hives on one corner), is designed to collect excess water and is used by researchers to study plants and educate young visitors. As mentioned on the museum webpage, there is 'a large glass canopy with a decorative band of 60,000 photovoltaic cells. These solar panels will generate approximately 213,000 kilowatt-hours of energy per year and provide up to 10% of the Academy's electricity need. The use of solar power will prevent the release of 405,000 pounds of greenhouse gas emission into the air.' We could go on and on, but we decided you should come and see for yourself if you want to know more about the eco-friendly pride of the Golden Gate Park! ;-)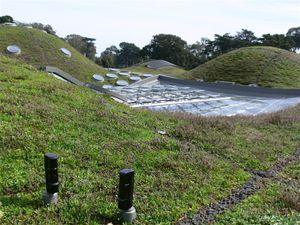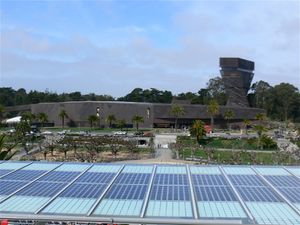 Some museum inhabitants ( a small panel)