We "celebrated" two very nice anniversaries lately.

The first one was the 100th Anniversary of the Geary Theatre, a SF landmark, located close to Union Square. The full theatre was open to the public allowing us to have a tour of the backstages. There was also a number of special events like a demonstration of fencing on stage: we saw a sword fight at real speed and another where the actors and their fencing teacher would break up the movements and let us see how they proceed, and signal each other to stay safe, how they would do if they totally forgot what the next move would be etc. For example, the one in attack would make a discreet gesture to his/her shoulder or head to indicate where she/he is going to attack, hence the "victim" can ward off easily the strike. We also watched the reading of a scene of the fist play that opened the theatre in 1910. The technical side is what was the most interesting for Celine. They explained the tricks for various atmospheres on the scene, how to use specific screens to allow the changeover of the backdrop, how the light techniques have evolved over time, as well as the sound system. The new stage which can be tilted to any desired angle, up to 30%, for shows where the actor's feet are almost as important as their faces or to give an impression of depth. We were then allowed on stage to see all the pulleys which are still actioned manually to activate up to eight different backdrops/curtains, the light ramps etc. Fascinating!

Very stylish purple corduroy seats.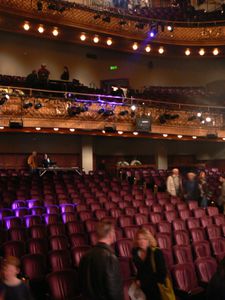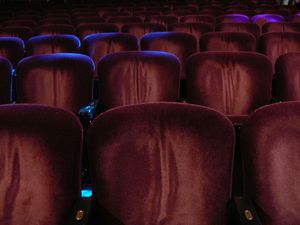 The fascinating system of pulleys to move the different settings
up and down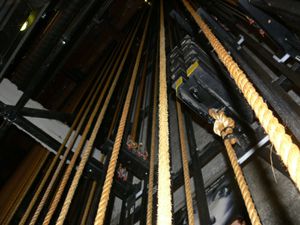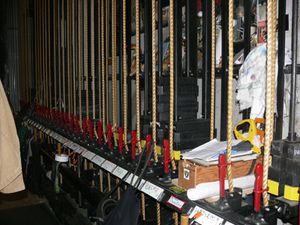 A small hole on the right side in the ceiling and a close-up from above the theatre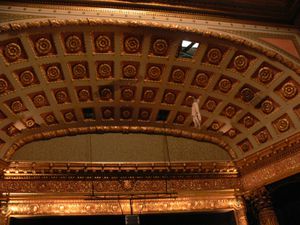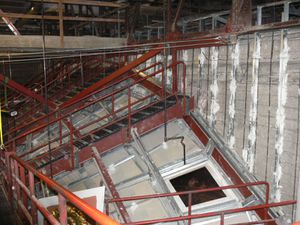 The sound and light system... and a perfect Vivian Leigh impersonation! The bald guy in the back is mesmerized!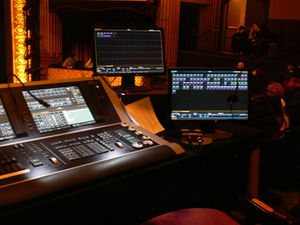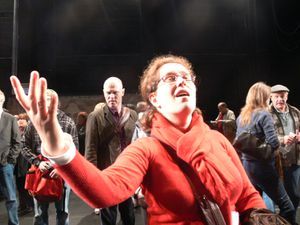 On Sunday we visited the SF Museum of Modern Arts which celebrated its 75th Anniversary.
Once more I enjoyed much more the superb building than the very modern, hence abstruse pieces of art. Being a Modern Art philistine, most of the pieces leave me cold (Grey squares on grey background, hem?!), and I found that the sculptures on the
Rooftop Garden
were much intriguing and interesting.


Conversations Piece N.Y (1,2 and 3) by Juan Munoz
The Nest
by
Louise Bourgeois.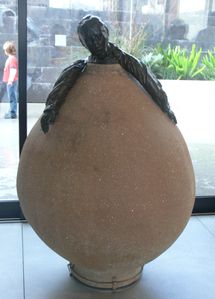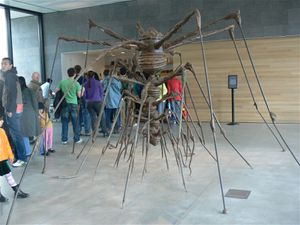 No Pain
, by Robert Arneson and a Calder mobile Big Crinkly,
slightly beheaded...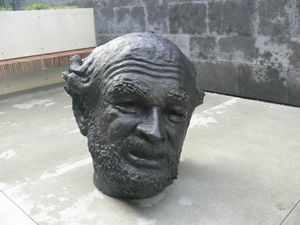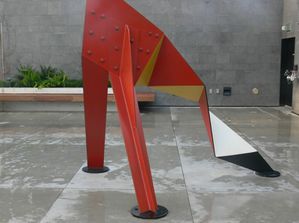 Superb views from the roof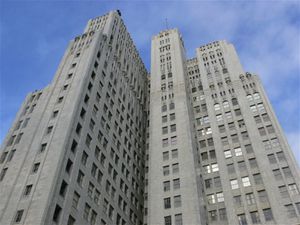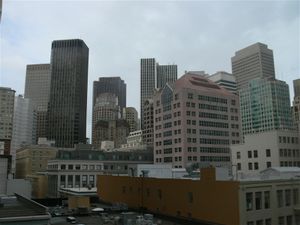 Inside the Museum