Lots of countries in the World, during the month of June, celebrate their LGBT communities, with musical and movies festivals, exhibitions, marches and parades. In June, because of the events that happened 40 years ago at the Stonewall Inn: "The Stonewall riots were a series of spontaneous, violent demonstrations against a police raid that took place in the early morning hours of June 28, 1969, at the Stonewall Inn, in the Greenwich Village neighborhood of New York City. They are frequently cited as the first instance in American history when people in the homosexual community fought back against a government-sponsored system that continuously persecuted sexual minorities, and they have become the defining event that marked the start of the gay rights movement in the United States and around the world".
It goes without saying that now that we are living in the so-called Gay Mecca we had a really great June: we've been to Dance and Movies festivals, the Dyke March, the Pink Saturday and, of course, the Pride Parade last week-end. We enjoyed the Dyke March a lot because it was a more participative, militant and funnier event than the Parade itself. I have shared feelings with the Pride Parade, from which I have been expecting a lot (the ones I've been in France were fantastic). Its main purpose being to celebrate the LGBT Community in its diversity, I felt a bit uncomfortable to see so many gawking tourists, very young and very straight people sneering at those "funny" queer people. Let just say that it felt like a gigantic Circus lacking any kind of political awareness. I can't help thinking "how many of these people cheering like crazy at the Parade will be the same denying us the right to marry or have children..."? But I'm sure I'm just an old cynical animal with little faith in Humanity...
Enough with my boring ramblings, and there are the pictures:
The 18th Dyke March on Saturday: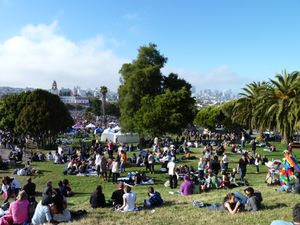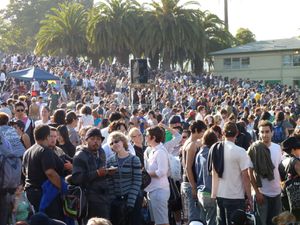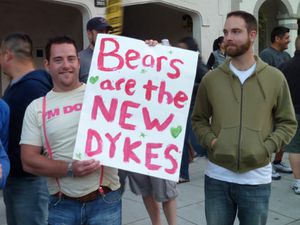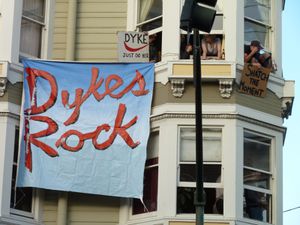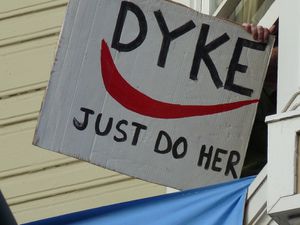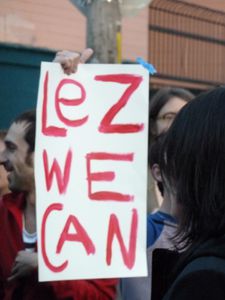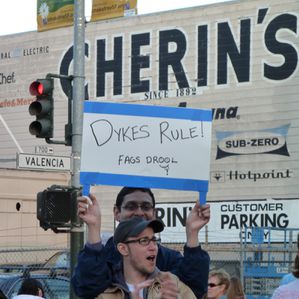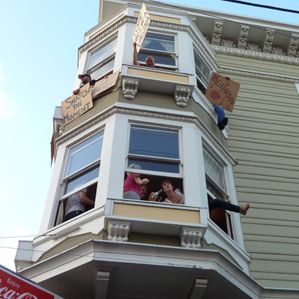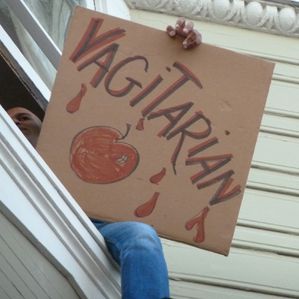 Pride Parade on Sunday
I've selected some of the more representative floats of what the Parade means to me.
"United for Quality Healthcare", because some companies don't allow the same healthcare rights for same-sex and straight couples. What's more, in most american hospitals, same sex partners are forbidden to visit each other, leading to incredible situations where hospital staff feel it's OK to leave people die alone. So, when making a choice for health insurance Celine also had to make sure that kind of things would not happen in our hospital.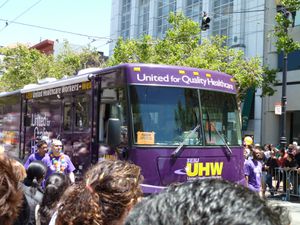 The next picture because of the DADT (Don't Ask Don't Tell) policy which restricts "the United States military from efforts to discover or reveal closeted gay, lesbian, and bisexual service members or applicants, while barring those that are openly gay, lesbian, or bisexual from military service".
In the Castro, there is a commemorative tablet for Leonard P. Matlovich, a gay Vietnam War veteran and recipient of the Purple Heart and the Bronze Star. His epitaph summarized beautifully the stupidity of this law: "When I was in the military they gave me medals for killing two men, and a discharge for loving one".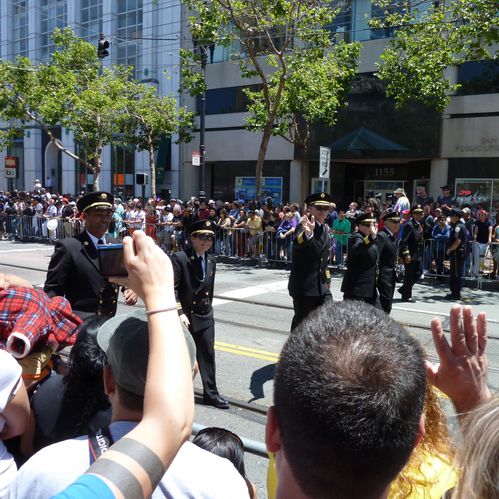 Because Budhha, Allah, or which ever God you are worshipping, don't care with whom you're in love with.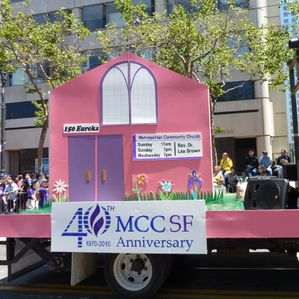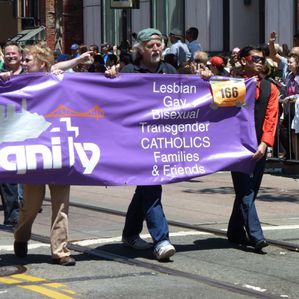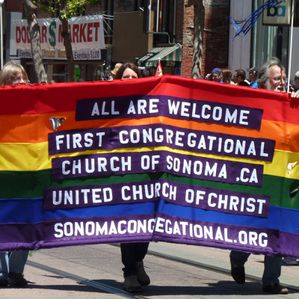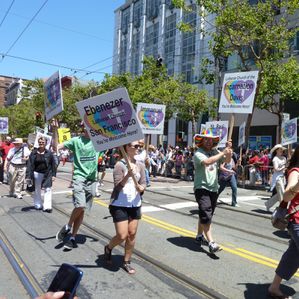 The next ones because in 31 US States it is legal to fire someone because of their sexual orientation, and in 39 because of their gender orientation.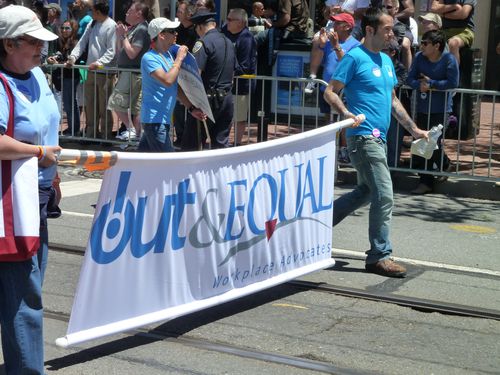 And this one because the Lady and her poster were so funny!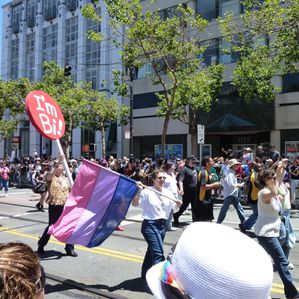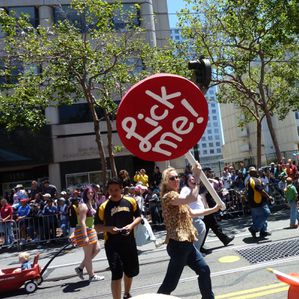 and this one is so sweet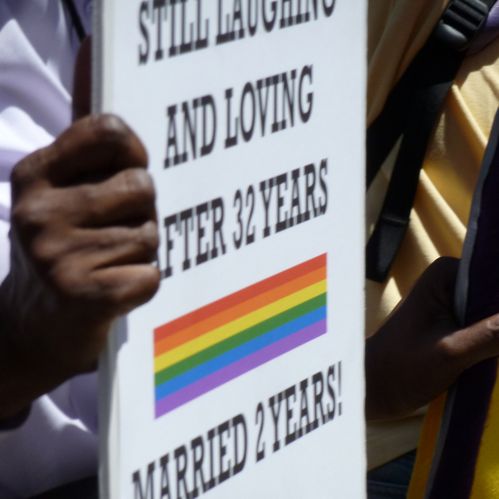 Because...we know the situation all so well!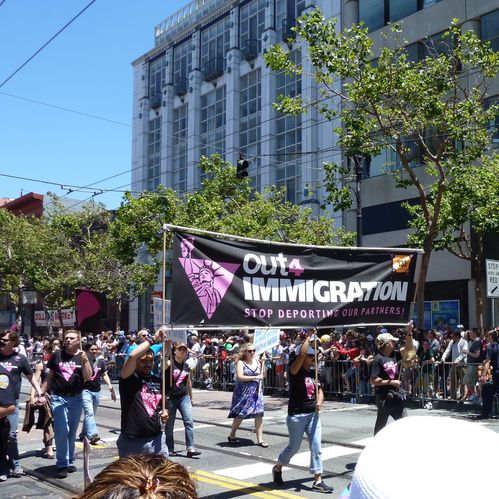 It was also a very festive and colorful day! Happy to see that our bank is also participating and sponsoring actually ;-)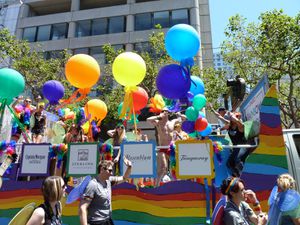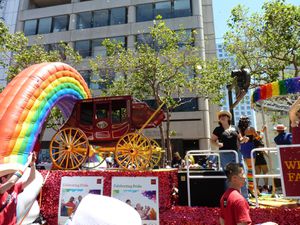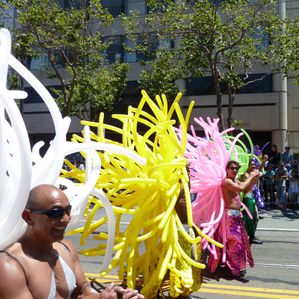 ... lots of pretty men, some with Kilts!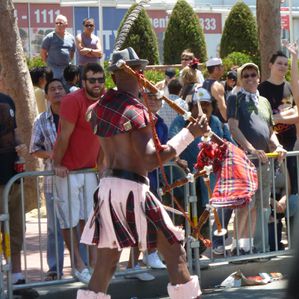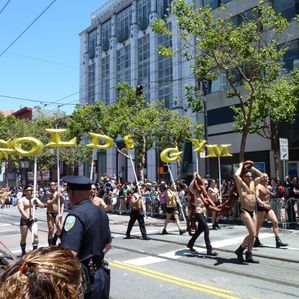 and the lovely Sisters of Perpetual Indulgence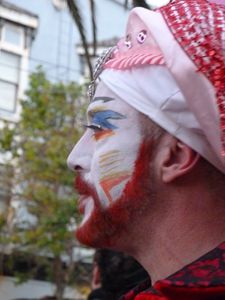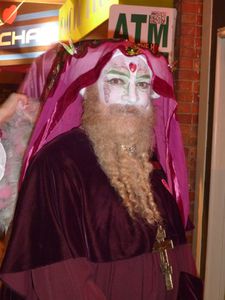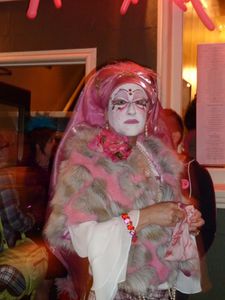 "It is absurd to divide people into good and bad. People are either charming or tedious."
Oscar Wilde
"The Bible contains six admonishments to homosexuals and 362 admonishments to heterosexuals. That doesn't mean that God doesn't love heterosexuals. It's just that they need more supervision."
Lynn Lavner