Mission-Balmy Alley's murals
We went back to the Mission to show our 1st guest the beautiful murals adorning the area walls. Most of those stunning murals are made, conceived and sponsored by the Precita Eyes Mural Art Association.
Example below of a mural made last Saturday to celebrate the famous mexican civil rights activist Cesar E. Chavez, revered within the hispanophone community.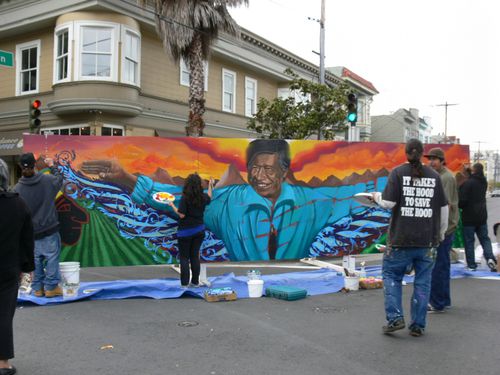 Next stop: the Balmy Alley aka "the best place to see the most concentrated collection of murals in San Francisco. The murals began in 1972 with the work of 2 women Patricia Rodrigues and Graciella Carillo, known as Las Mujeres Muralistas. In 1984, a project led by Ray Patlan installed murals celebrating indigeneous Central American cultures and protesting American intervention in Central America. Today the alley contains murals on a myriad of subjects from human rights to local gentrification and Hurricane Katrina."
The Five Sacred Colors of Corn painted by Susan Kelk Cervantes and Mia Gonzales, 1996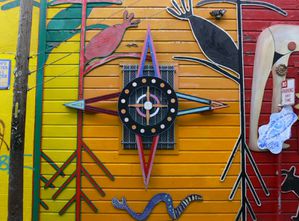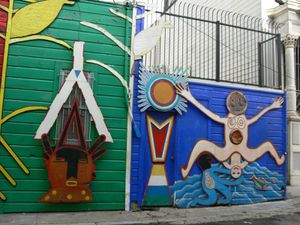 The Aids Memorial mural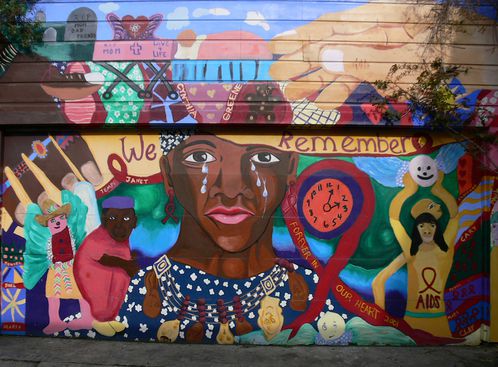 Naya Bihana (A New Dawn) painted by Martin Travers, 2002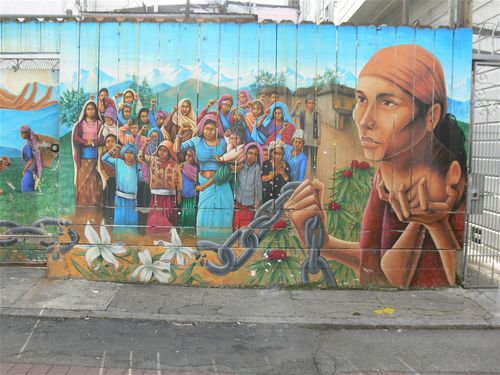 Odd Animals murals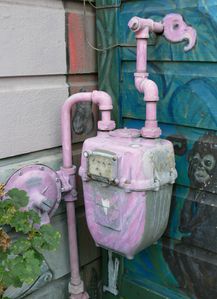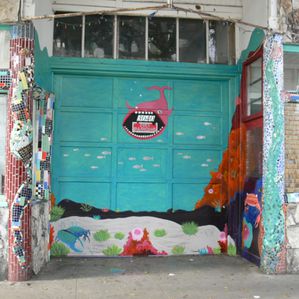 Laundry mural & public washing-machines because few american flats have one!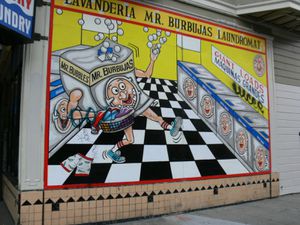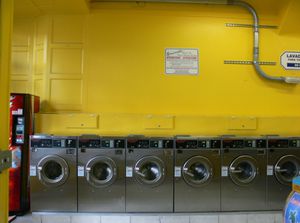 "Un Pasado que aun vive" based on stories from El Salvador by Joel Bergner, 2004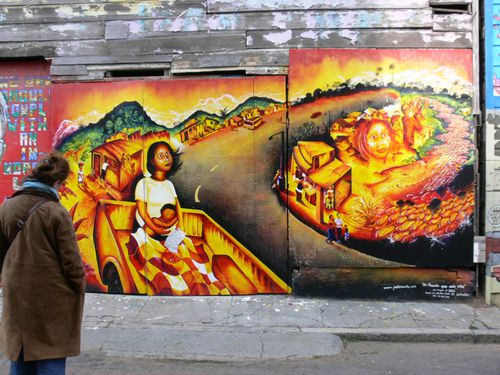 A puzzling and disconcerting phenomenon widespread all over the City: the Shoe hunging or "shoefiti".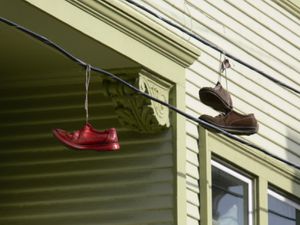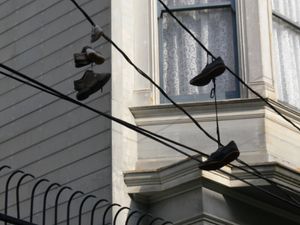 This is a very short summary of what I found out in Wikipedia about this: Shoes tossing or "shoefiti" is the American and worldwide practice of throwing shoes whose shoelaces have been tied together so that they hang from wires such as power lines or telephone cables. This practice plays a widespread, though mysterious, role in adolescent folklore in the United States. The explanations are diverse and range from plain sinister: advertise where crack/cocaine is used and sold or to relate to a place where Heroin is sold to symbolize the fact that once you take Heroin you can never 'leave'; less sinister explanations such as the end of school or leaving the military service or completing a training; prosaic ones (practical joke or bullying); with spiritual connotation: in some neighborhoods, the shoefiti signifies that someone has died there, the shoes belonging to the dead person. The reason they are hanging is that when the dead person's spirit returns, it will walk that high above the ground, that much closer to heaven...So pick the one you prefer!