We left the Civilization for 2 days and it was a welcome break. We spent our 1st night in a US Hostel at Pigeon Point Light Station. We were quite pleased with it, as it is made of 3 or 4 little houses with a low number of rooms, lovely livingroom and an unbelievable view of the Ocean... Our room was within one of the little houses you can see on the right hand side of the picture below.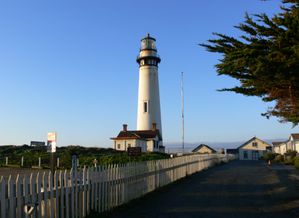 On Sunday
we enjoyed a fantastic lunch
in Half-Moon Bay, where they serve the best
crab
cakes and calamari ever! The soups were excellent too... ho and the Lemon tart is to die for! Yes, we were totally satiated at the end and we just wish we could have a wee nap!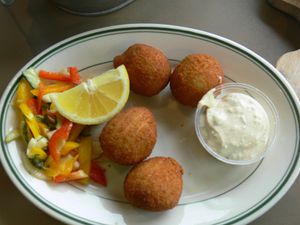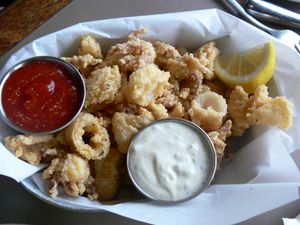 View from the Restaurant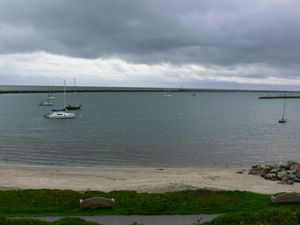 We saw this funny vessel on the Parking lot and it made us laugh: yes, the yellow car is attached to the immense camping car...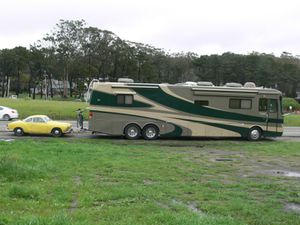 Ano Nuevo State Park

The Higlight of our week-end: a fantasic tour of 2 hours to watch from a very close distance very funny looking animals: the Northern Elephants Sea Lions.
Our docent (the US version of guide) was excellent, informative and just enthousiastic enough. I can't stand guides that keep saying "awesome" (the main adjective in American language apparently from what I hear all the times in bus & streets) and "so cool" every 10 secondes... and these were not part of her vocabulary!

DESCRIPTION: Elephant seals are well named because their large noses resemble an elephant's trunk. Males begin developing this enlarged nose, or proboscis, at sexual maturity (about three to five years), and it is fully developed after seven to nine years. Adult males may grow to over 13 feet (4 m) in length and weigh up to 4,500 pounds (2,000 kg). The females are much smaller at 10 feet (3 m) in length and 1,500 pounds (600 kg). The northern elephant seal is the second largest seal in the world, after the southern elephant seal.
RANGE/HABITAT: Northern elephant seals are found in the North Pacific, from Baja California, Mexico to the Gulf of Alaska and Aleutian Islands. During the breeding season, they live on beaches on offshore islands and a few remote spots on the mainland. The rest of the year, except for molting (la mue) periods, the elephant seal lives well off shore (up to 5,000 miles, or 8,000 km), commonly descending to over 5,000 feet (1,524 m!!!) below the ocean's surface, able to hold its breath for up to 1 hour!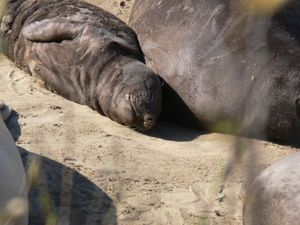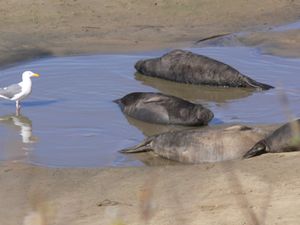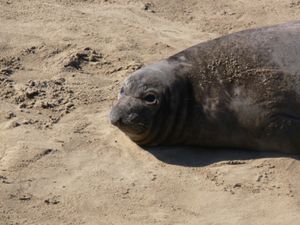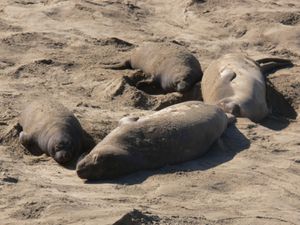 Sea lions have the ability to regulate their own body temperature. They can often be seen floating with one flipper out of the water. The reason for this is because the capillaries are close to the surface of the skin and can catch sunbeams to warm their body. To cool down, they put their flipper into the water then raise it back up into the air which cools them off during the evaporation process. This process is called thermoregulation.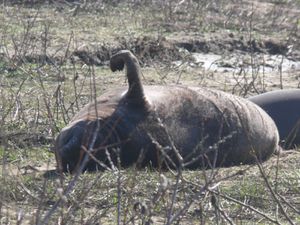 On our way back we stopped for a sandy pique-nique and a lovely walk on the Beach.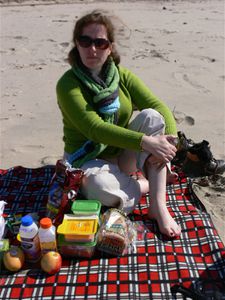 Later, we visited the so-called Historical village of Pescadero where the local grocery seems to produce very fine food indeed.... (to be fair everything looked really nice but we were quite amazed by the name of this wine!)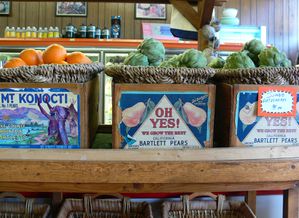 and finally a bit of Californian countryside. Worth noting: I saw a warning sign " This way up in case of a Tsunami"...while we were easily 10 km from the closest beach. Disconcerting at best...