Point Reyes Seashore park
What a great day last Saturday was: fantastic landscapes, a great variety of animals and flowers to be seen, and a yummy 'pan bagna' in the car, watching a wild Ocean because the wind was way too chilly to be outside. In short, we thought for a moment that we were back in Scotland! But we just had to look at the size of the parking lot to know where we were. As I pointed out to Ce, we passed more cars in one hour here that we would have in a full week in the Hebrides! OK that's the only derisive comment I will make about our day out as it was perfect.
We drove North, as last week-end we went to a park in the South of the Bay, and it was a bit disapointing. I mean, the park was nice but way too crowded. So we decided this time to go to a bigger one, hoping that the ratio human beings/surface area would be better. It definitivily was but still not this "just us" situation we had so many times in Scotland. Ooops second negative comment. I stop now, and here are the pics!
Our first destination was the Point Reyes Lighthouse. The landscapes to reach it were extremely wild and beautiful.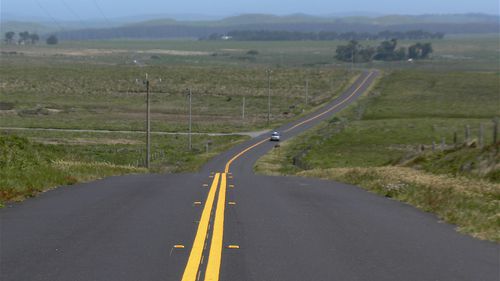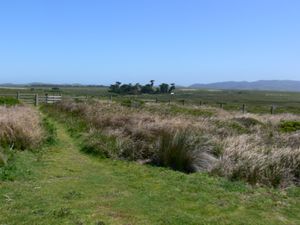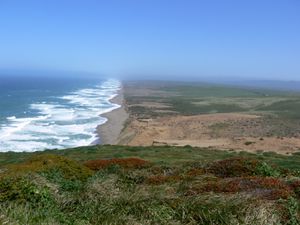 Some beautiful houses, on the road to the lighthouse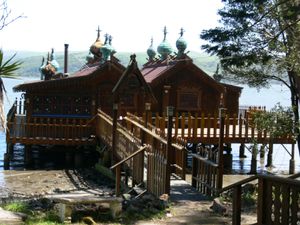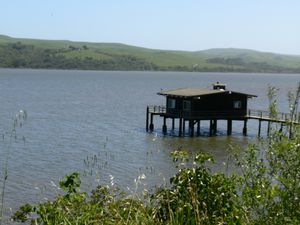 and finally the lighthouse: at first the stairs were closed because of the wind but the rangers reopened it later in the day. A strenuous but worthy walk to get there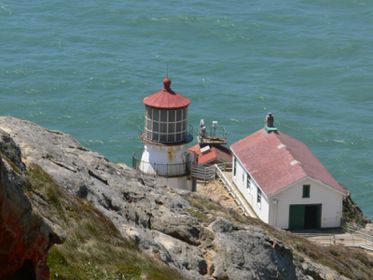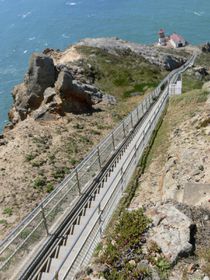 What we really enjoyed about our day out was to be able to see an important variety of plants and animals.
From left to right: Californian poppies, California wild Iris and Ice plant flowers (which cover most cliffs, and a lot of road sides, really stunning)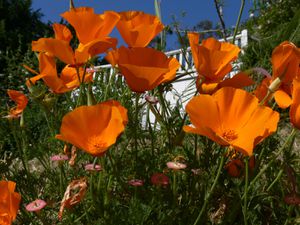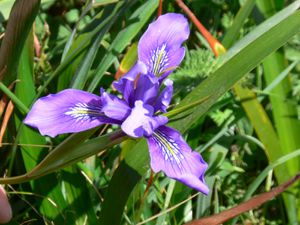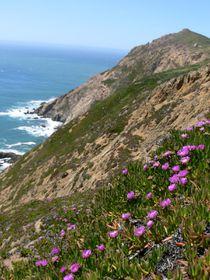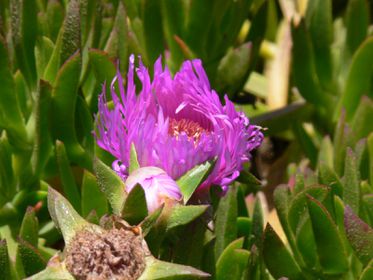 We were lucky enough to see a couple of Bambies, and also escaped a very close encounter with a third one who was crossing the road. A big fright for the 3 of us but it gave us the opportunity to see a doe from VERY close range!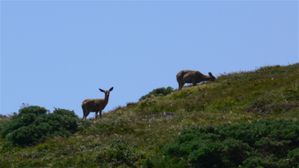 and finally we saw them! Yes we did...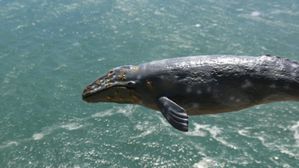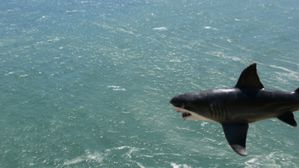 ... an hoax? What hoax??? Alright alright... these pics might be slighty fake but we had a great laugh "creating" them. Especially Ce, the Mischevious Brain behind the joke. The ranger at the lighthouse had a little exposition of various 25cm plastic sea mammals that we used here...
Anyway we did see 3 sets of mummy-baby Grey Whales (Baleen Whales) from a (very long) distance. A very moving instant... and the BIG advantage for me: no sea sickness as compared to our dedicated boat trip!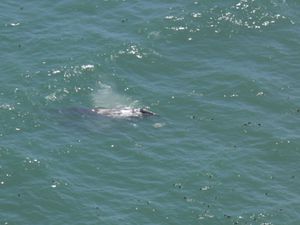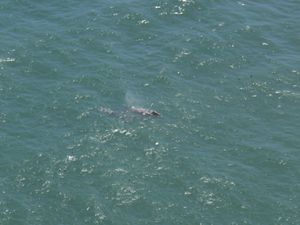 We took a road through a lovely countryside for the return. Invariably one of us will start humming the tune from 'Little House on the prairie', the most famous opening credits in the History of TV.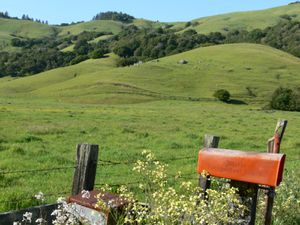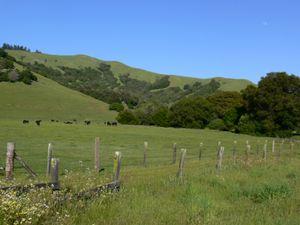 Just because I can't stop smiling when hearing it, I wanted to share it with you (you will have to suffer a silly advert before accessing the movie but it lasts no more than 7 seconds so be patient). Enjoy and remember your youth spent in front of the telly a long time ago :)
http://www.dailymotion.com/video/x3112h_little-house-open_shortfilms